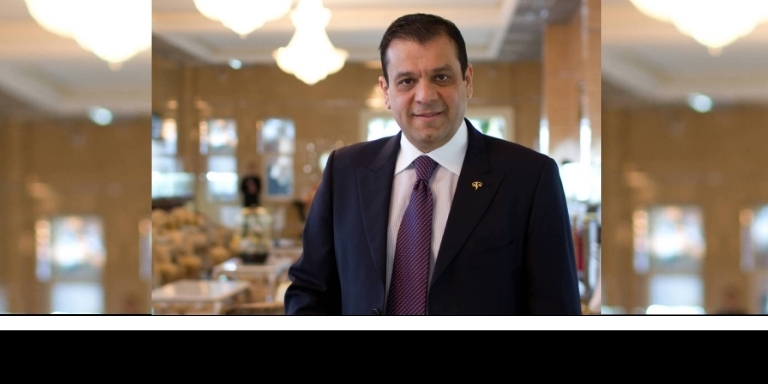 Berge Abajian is the President, CEO, and Head Designer of Bergio, a global leader in jewelry design and manufacturing. Established in 1995, Bergio's signature innovative design, coupled with extraordinary diamonds and precious stones, earned the company recognition as a highly sought-after purveyor of rare and exquisite treasures from around the globe. With family jewelry roots reaching back to the 1930s, Berge is a third-generation jeweler, blending superior knowledge in design to create unparalleled collections.
He took the company public in 2008, allowing the Bergio brand to grow, diversify and increase its global presence. Most recently, Berge led the acquisition of Aphrodite's, a fast-growing jewelry e-tailer, and announced the intent to acquire GearBubble, a B2B e-commerce fulfillment platform.
Please tell us a little bit about your company
I launched Bergio 25 years ago with a vision to create innovative jewelry for a classy woman with discriminating taste who valued quality and craftsmanship. We have always aimed to create designs ahead of the trends, incorporating extraordinary diamonds and precious stones. Our perfectly curated collections have gained global recognition and established our brand as a highly sought-after purveyor of rare and exquisite treasures from around the globe.
Tell us a little bit about your background and how you started your company?
As a third-generation jewelry designer, I have always been surrounded by creativity and a passion for design. Every aspect of running a successful jewelry brand, from the design conceptualization to the manufacturing, all the way to the customer experience, was something I was obsessed with continually perfecting. In November 2009, we became a publicly traded company under the symbol BRGO. We created a marriage between a long history of design excellence and a keen business understanding of the jewelry industry. I wanted to forge my own path to success and have always taken big risks knowing it was needed to reach my vision.
What would you say are the top 3 skills needed to be a successful entrepreneur, and why?
You need to have a perpetual 360-degree understanding of your business to become successful. You cannot have knowledge in just one segment, such as marketing, accounting, or operations. These different areas do not operate in silos, but they are interwoven into the fabric that makes up your business.
You also need to be resilient and not be afraid to keep forging on the path you have set out, even when things get difficult. I knew I wanted to do things differently from the very beginning, and I accepted that others would not always see my vision.
Lastly, you often need to become a master of striking a balance. In my business, I need to create unique designs without sacrificing quality. I also need to find the perfect blend of creativity and business.
What are your plans for the future? How do you plan to grow this company?
We are experiencing an exciting time for our company with so much exponential growth on the horizon. We recently acquired Aphrodite's, a jewelry e-tailer that has done $31 million in sales in 3.5 years, of which $10 million was made during the pandemic. We are already on track to grow this new division exponentially with our insights into structuring successful companies from the business side and jewelry industry expertise. We plan to tap into their technology to expand our e-commerce presence and sales. In the upcoming year, there will be additional expansion overseas with new factories in Armenia to increase production, allowing us to scale in a big way.
How do you separate yourself from your competitors?
We have an unwavering commitment to designing original pieces. When I set out to design a new collection, I painstakingly make sure that each piece is unique and nothing similar has been made by anyone else. At Bergio, we make sure never to follow trends, we prefer to set them.
Tell us a little bit about your marketing process, what has been the most successful form of marketing for you?
There is no better marketing than a trusted army of loyal fans that advocate on behalf of your brand because they believe in your vision. Word of mouth is truly priceless. As we expand our footprint in the e-commerce space, we have taken this into the digital world and amplified our fanbase.
What is the one thing you wish you knew before starting your business?
very step of my entrepreneurial journey has taught me something new. Each misstep was a great lesson learned, and each success taught me that taking risks often paid off. There isn't one thing. I wish I had all those years of experience from the start, as I attribute it to the success that I have been able to achieve today.
Can you recommend one book, one podcast, and one online course for entrepreneurs and authors?
I have never been a fan of online courses or podcasts. But I love to read and have always loved 1984 by George Orwell. While not a business book, it does expand your mind and help you think about the world in different ways. And in a way, that is business. Understanding that the world is constantly changing and evolving in new and unexpected ways – and then finding a way to mold your business to flourish in that environment.
If you only had 1000 dollars to start a new business, knowing everything you know now, how would you spend it?
In my opinion, $1,000 doesn't get you anywhere in the world we live in today. But if that is all I had, I would double down on connecting with people to build my network and building authentic relationships with them. You will always need mentors, partners, investors, and other people that bring value to your business to grow. The more extensive your network, the faster you can reach your goals.
What is your favorite quote?
"He who doesn't go forward falls behind. A stationary position is the beginning of the end."
What's your best piece of advice for aspiring and new entrepreneurs?
Don't ever be afraid of failure; you should embrace it. Failure is inevitable, so you need to face it head-on and not let it stop you on your path to success.